Facilities & Infrastructure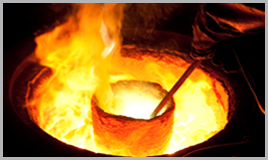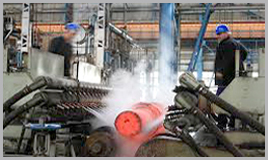 Blue Star Casting Pvt. Ltd. maintains a up-to-date manufacturing facility at Jamshedpur, capable of a wide range of products. The manufacturing unit is fully equipped with latest equipments for production, a modern laboratory for quality assurance and a highly skilled team of technical personnel.
The company has an in-house Research & Development section which constantly upgrades and updates the technology to offer customized solutions to the problems of industry and meet the specific needs of our clients.
Melting and Moulding Shop
Medium Frequency Dual Track Induction Furnaces of 1 ton capacity, working in tandem to provide the accurate heat composition for castings.
Sand Plant
Fully automated sand moulding plant with sand mixer and 4 nos. of jolt squeeze type moulding machine and overhead cranes.
Heat Treatment Shop
We have Fully automatic type heat treatment plant with temperature graph attachment for Hi chrome & Hyper steel grinding media balls and liner with oil and air quenching arrangement & fully automatic batch type furnace with water quenching arrangement for manganese steel castings.